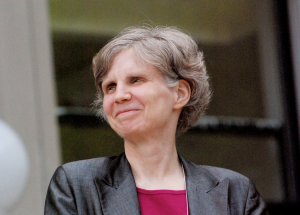 Dr. Stacy was one of the first women to receive tenure at Berkeley's College of Chemistry and her interest in and commitment to equity issues on our campus has spanned her career at UCB. Professor Stacy's post as Associate Vice Provost for the Faculty gives her an opportunity to focus her concerns on increasing justice in retention and recruitment issues which affect gender and racial equity for UCB's faculty. She has served as Associate Vice Provost for the Faculty since 2001.
"Diversity is an integral part of excellence. If we are to attract the best and the brightest then we need to draw on all the talented minds, not just from a few select groups. One only needs to look around at the faculty to realize that its composition does not reflect the diversity of our society, or even the diversity of our students. My post is critical in assisting our faculty and our leadership in using data to construct new paradigms for promoting greater diversity and equity in our faculty."
Professor Stacy served as co-investigator of the Faculty Family-Friendly Edge, a Sloan Foundation research project with Mary Ann Mason, dean of the graduate division.
Dr. Stacy's career in Chemistry, which spans more than 25 years, has resulted in a significant number of prestigious national awards.