Outreach for Underrepresented Groups
As a federal contractor, UC Berkeley is obligated by law to make efforts to encourage underrepresented individuals to apply for academic positions, with the goal of meeting the benchmarks for the search area and affirmative action goals for the recruitment. The goal of every search should be to ensure there are outstanding women and minority candidates in the pool. To support these efforts, OFEW automatically posts advertisements in a number of online venues (see below for a list).
Outreach activities to increase the number of qualified candidates, including women and underrepresented minority candidates may include:
Making personal calls or emails to colleagues to identify potential underrepresented applicants;
Considering candidates who may be currently under‐placed and excelling at less well‐ranked institutions;
Attending conferences that provide opportunities to recruit a diverse pool of applicants and include contacts with organizations serving underrepresented groups in the field;
Approaching and/or interviewing underrepresented candidates at professional meetings or conferences and encouraging them to submit an application;
Searching for individuals with non‐traditional career paths who may have taken time off for family reasons (e.g., to provide care to children, a disabled family member, or parent) or who have achieved excellence in careers outside academe (e.g., in professional or industry service); 
Ensuring that the recruitment and application process is accessible to individuals with disabilities. All advertisements include contact information for individuals who have questions or concerns; candidates who are unable to use AP Recruit should be encouraged to submit the required materials through another venue (email, mail). Consult the Disability Compliance Office for more information on accommodating individuals with disabilities for interviews or campus visits.
Discipline-Specific Outreach
In addition to outreach for underrepresented groups, for all searches it is necessary to engage in a minimum of two additional discipline-specific outreach efforts. Discipline-specific locations should be specific to the field in which the work will be conducted to solicit candidates with the requisite skills for the job. Job boards and other locations where the ad will be posted must be active, with many recent postings. Additionally, these locations should not be oriented toward particular underrepresented groups unless they are in addition to the required minimum of two discipline-specific outreach efforts. 
The table below lists the acceptable forms of discipline-specific outreach. To meet the minimum requirement for discipline-specific outreach efforts, please choose one outreach effort from each column.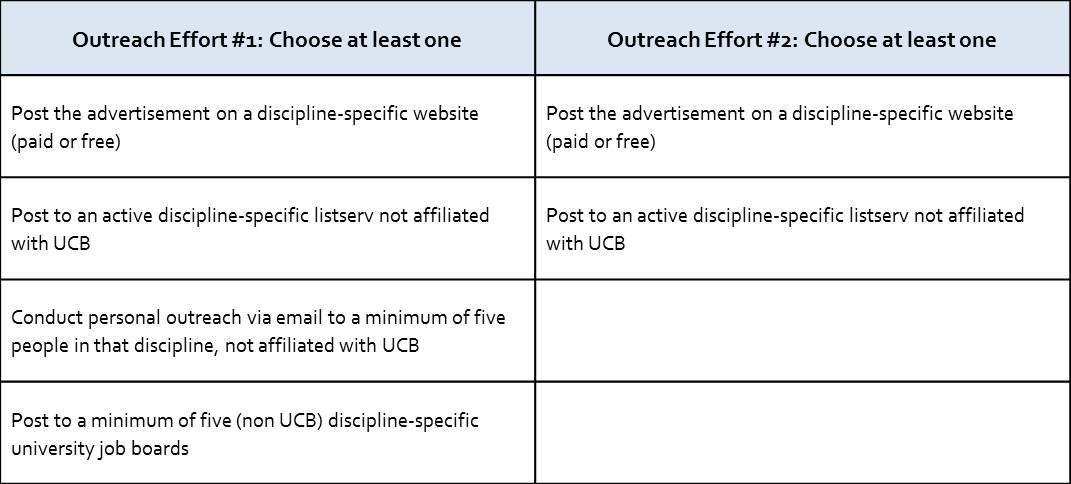 Example
Discipline-specific locations for non-senate position in Statistics: Job Boards at the National Institute of Statistical Sciences and Institute of Mathematical Statistics.
Additional locations to reach underrepresented groups: Committee on Women in Statistics and Women in Probability group.

NEXT PAGE: Advertisement


PREVIOUS PAGE: Applicant Qualifications