Search Committee Composition and Size
Searches for non-senate academic employees vary greatly in the extent to which a formal search committee is used versus relying on a single individual, such as a faculty Principal Investigator, to conduct a search. This is a recommended guide for the most common non-senate titles: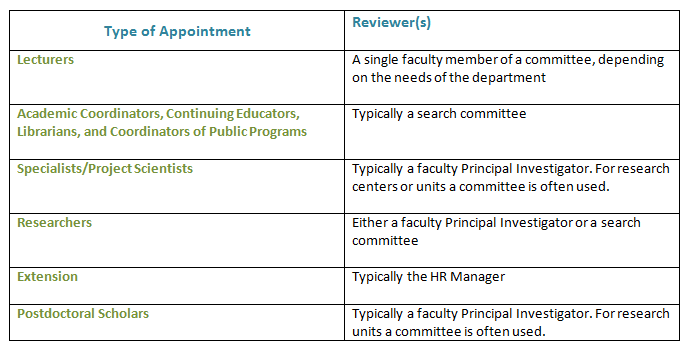 Committee/analyst roles
Core committee
The search committee may consist of as many members as is necessary. One person may serve in the role of Search Committee Chair. The Chair can review incomplete applications and may manage applicant files if desired. Search committee reviewers have viewing rights to completed applications for a given recruitment and may comment on them and flag applicants.
For recruitments conducted by a single faculty member and supported by an HR analyst that are IRD/open until filled, it is recommended that the faculty member have the status of search committee reviewer rather than chair. This makes the review process more streamlined and clear for the faculty member, particularly when conducting searches with multiple review periods.
Equity advisor/Equity Advisor role
Non-senate recruitments do not involve an Equity Advisor.
Additional reviewers
The designation as "additional reviewer" is typically used to allow individuals not on the search committee to view applicant information. An entire department can be granted reviewer status to view the finalists in a search if necessary, though this is typically not done for non-senate recruitments. To assign a non-Berkeley affiliate access as a search committee member see Appendix E for instructions. A complete description of user roles and access rights is provided in the AP Recruit User Manual. Please note: It is not necessary for analysts to have "additional reviewer" roles - all analysts with access to searches in a particular department automatically have analyst access to the search.
Guidelines for Search Committees
Each department or school should establish its own procedure for appointing a search committee, depending on the needs of the department and the job type, while taking into account the way that committees have been established in the past. Some non-senate searches do not involve an established search committee.
Select a chair of the search committee
One member of the search committee should serve as the chair. This individual has unique responsibilities to the search (see below for more information on this role).
Appoint a diverse committee
The search committee should include members with a demonstrated commitment to increasing equity and access in higher education. Whenever possible, the search committee should represent a diverse cross section of individuals, including men and women, and majority and minority group members. Research has shown that a diverse search committee is more likely to yield a robust candidate pool.
Avoid conflicts of interest on the search committee
It is important to avoid potential conflicts of interest when selecting members of the search committee and also when confronted with situations with individual applicants. After the committee has been established, set forth a consistent protocol for handling difficult situations of a real or perceived conflict of interest. These include when a student collaborator, former student, friend or close colleague, or someone related to a committee member applies for the position. Ideally these situations can be anticipated ahead of time and the affected individual can choose not to sit on the particular search committee. In other cases, it is appropriate for the committee member to disclose the relevant information and recuse himself or herself from committee deliberations about the individual. Please consult with OFEW (642-1935) to discuss difficult situations.
Prepare for the search
Adequate preparation is also important to an effective search. All search committee members should read this guide prior to commencing the search process to be aware of best practices and of their responsibilities. Department analysts serve as a resource to faculty, many of whom are not regularly involved in conducting academic recruitments.
Confidentiality 
Confidentiality preserves the integrity of the selection process and protects the privacy of the candidates. All members of a search committee, including students and individuals outside the department or school, have access to confidential search information on a "need to know" basis.   All members of the search committee with access to search records are ethically bound to the utmost level of confidentiality. Specifics of the committee deliberations should not be discussed with anyone outside the search committee, with the exception of the department chair, dean of the school, or OFEW. The requirement for confidentiality extends to all aspects of the search, including written and verbal communications, and through all phases of the search process.  Discourage discussions about candidates that do not focus on the established criteria for the position. Demographic characteristics, family status, spousal/partner issues, or other non-job related information or rumors should not enter into deliberations about the candidates.
How to Avoid Having Active Recruitment Efforts Backfire
Women and minority candidates wish to be evaluated for academic positions on the basis of their scholarly credentials. They will not appreciate subtle or overt indications that they are being valued on other characteristics, such as their gender or race, which is also illegal. It is important that contacts with women and minority candidates focus on their skills and credentials as stated in the job advertisement.
Review Research on Bias and Assumptions
Regardless of the social groups we belong to, we all perceive people differently based on their demographic characteristics (race/ethnicity, gender, sexual orientation, gender identity, disability, religion, politics, etc.). However, and importantly, most people try to overcome their stereotypic preconceptions. Understanding the nature of such biases and implicit assumptions may reduce the impact of irrelevant factors in the candidate selection process. Therefore, time should be spent educating search committee members about research on unconscious bias and cognitive errors in selection processes. See Appendix F, "Countering Selection Bias," for more information. There is also a ready‐to‐print handout, "Research on Bias," prepared by the UCLA Faculty Diversity and Development office on their Department Chair Resources webpage.
Summary of the role of the search committee chair (when applicable)
For non-senate recruitments that involve a search committee, the chair has overall responsibility for managing a proactive, timely, fair and legal search. Responsibilities include:
Establish processes and ground rules before the search begins 
Discuss the overarching goals of the search. 
Ensure understanding and compliance with applicable laws and policies (Affirmative Action and Proposition 209). 
Create a plan for conducting the search, including how and when meetings will occur, how meetings will be conducted, and when and how topics of discussion will be raised. 
Instruct the committee on confidentiality requirements of candidates and the search process. 
Discuss any potential conflicts of interest that may arise, for example, individuals who may apply for the position who have relationships with search committee members, and how they will be handled.
Lead the committee in all phases of its work 
Develop a job advertisement that reflects the goals of the search.


Create a proactive recruitment plan to generate a broad and inclusive applicant pool, including soliciting suggestions from colleagues or organizations to identify qualified individuals who might not otherwise apply for the position.
Establish written evaluation and selection criteria and ensure that the criteria are applied equitably throughout the search process.            
Ensure that each candidate's file is read by more than one search committee member at  each stage of the search process. 
Discourage discussions about candidates that do not focus on the established selection criteria for the position. 
Determine the short list of finalists for the position.
Maintain positive interaction with candidates 
Ensure that the committee treats all candidates respectfully and equitably. 
Ensure that candidates feel welcomed — Berkeley's reputation as a welcoming institution rests in large part with the search committee members' treatment of candidates. 
Maintain communication with candidates, keeping them informed of the process and timelines. 
Inform applicants in a timely manner if they are no longer under consideration for a position. AP Recruit can be used to send emails to applicants.
Put forward a candidate
Guide the search committee in voting procedures.


Write the Search Committee Narrative (not required for lecturer, postdoctoral fellow, specialist, continuing educator, or project scientist recruitments).
Conduct post-search committee review 
Prepare and submit the Search Report for review and approval prior to moving forward in the process of a formal offer of employment.

NEXT PAGE: Additional Search Plan Documents

PREVIOUS PAGE: Selection Process and Plan