Interviews
Interviews can take place in person, by telephone, or by Skype. It is important to make every effort possible to interview all candidates in the same manner. This is sometimes not possible if one candidate is local and another is out of state. It is not necessary to submit a short list for review and approval in AP Recruit.
Create a list of interview questions based on the job description and evaluation criteria to ask of all candidates interviewed. 
Campus Visits
It is not necessary to have campus visits for non-senate recruitments; these are guidelines for use if relevant. Whether interviewing candidates at a national conference, or bringing candidates for a campus visit, remember that the candidate is also evaluating the department or school and the university. First impressions are important on both sides.
To ensure equity, provide each candidate with the same welcome and introduction to the department or school. For example, if one candidate is taken out to dinner, then all candidates should be taken out to dinner. Give each candidate equivalent information about the position, the department or school, and the campus.
Prepare an agenda for the candidate's visit ahead of time. Provide the agenda to the candidate and to appropriate members of the department or school (faculty/students/staff).
Ask if the candidate has any special needs such as physical access needs or dietary limitations. If a candidate requests accommodation for a disability, provide the requested accommodation or consult with the Disability Compliance Office for more information. In addition to physical access, the University is required by law to provide accommodations such as a sign language interpreter, captioner, written materials in an alternate medium, or flexibility when scheduling appointments.
Usually the campus visit includes a job talk and opportunities to meet with department or school faculty, graduate students, staff and faculty outside the department or school, as appropriate.
Job Talks
If a job talk is part of the campus visit, give each candidate clear instructions about what is expected. For example, clarify whether the department or school is interested in hearing about a specific research topic or a broad overview of research programs and plans. In conducting interviews and job talks, use a consistent format for each candidate, focusing on information relevant to the selection criteria agreed upon in advance. Structure the sessions so that fair comparative judgments can be made.
During interviews and job talks, do not ask candidates any questions that may relate to the protected categories listed in the University's non‐discrimination policy, such as race, color, national origin, religion, sex, gender identity, pregnancy, physical or mental disability, medical condition, genetic information, ancestry, citizenship, age, sexual orientation, marital status or status as a covered veteran (see table below). Beware of social situations! The non‐discrimination laws apply to discussions that occur in social settings as well as during formal meetings or job talks. The table on the next page provides guidance about applicable topics.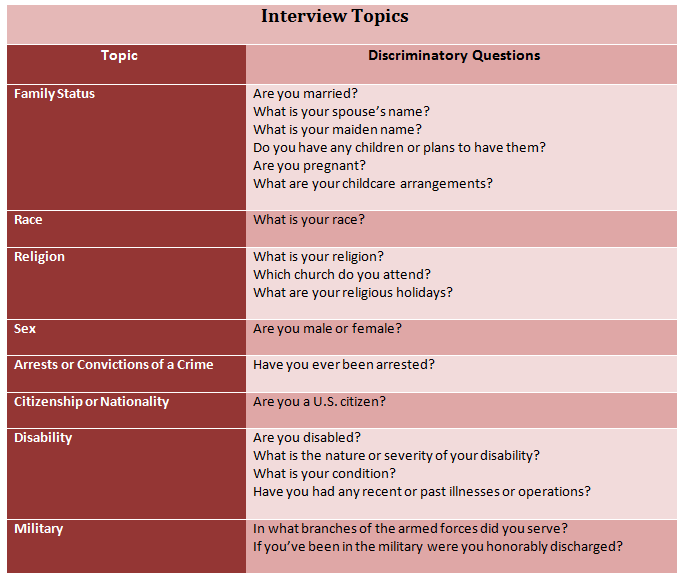 NEXT PAGE: Selecting the Final Candidate


PREVIOUS PAGE: Letters of Reference